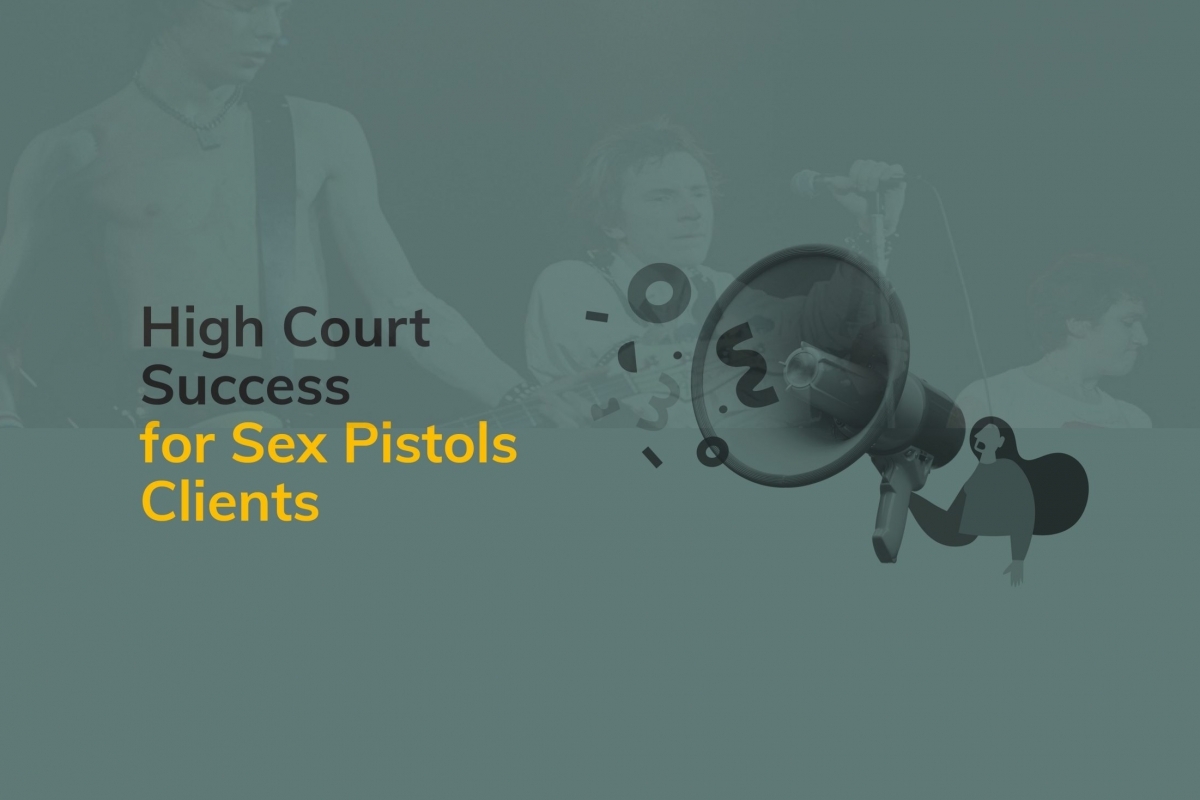 High Court Success for Sex Pistols Clients
24th August 2021
This week our clients, Steve Jones and Paul Cook, succeeded in the High Court in their case against their Sex Pistols' band mate John Lydon aka Johnny Rotten.
Lee & Thompson acted for Sex Pistols guitarist Steve Jones and drummer Paul Cook, in relation to the band agreement between the members of Sex Pistols and in particular Mr Lydon's refusal to approve the use of his share of the band's songs in an upcoming mini-series, Pistol, directed by Danny Boyle based on the 2016 memoir written by Steve Jones.
In a seven-day trial at which all four members of the Sex Pistols and the trustee of Sid Vicious' artistic estate gave evidence, Jones and Cook argued that Lydon was bound by the terms of a band management agreement signed in 1998, under which decisions regarding the licensing of compositions, recording and other properties of the band may be made by a majority.
In a judgment handed down on 23 August 2021, Sir Anthony Mann upheld Jones and Cook's claims and held that the band member agreement was valid, and that Lydon was required to give his consent to the licences sought for Pistol.
Lydon argued Jones and Cook were 'estopped' from relying on the band management agreement due to the way in which the band had operated. Sir Anthony Mann rejected those arguments, stating: "I find that Mr Lydon fails to establish any of the assumptions, representations and acquiescence he needs to establish to begin to get an estoppel case off the ground. Nor could there be any case of reliance on any such material."
The case is also noteworthy as the judgment was given on an expedited basis less than 6 months after the dispute arose.
Reacting to the judgment, Cook and Jones said:
"We welcome the Court's ruling in this case. It brings clarity to our decision making and upholds the band members' agreement on collective decision making. It has not been a pleasant experience, but we believe it was necessary to allow us to move forward and hopefully work together in the future with better relations."
Martyn Bailey, Dispute Resolution partner at law firm Lee & Thompson, represented Paul Cook and Steve Jones in this matter.  He said of the judgment:
"We are delighted that the Court has enforced the terms of the band member contract, giving certainty to our Clients and the other band members. Our Clients needed an urgent Court ruling, given the production of the television miniseries 'Pistol' and with judgment being handed down in a complex matter less than 6 months after the dispute arose, the Court has demonstrated that justice can be achieved quickly."  
The Lee & Thompson team was led by partner Martyn Bailey and assisted by associate Anna Kullmann and trainee Cristina Comsa.